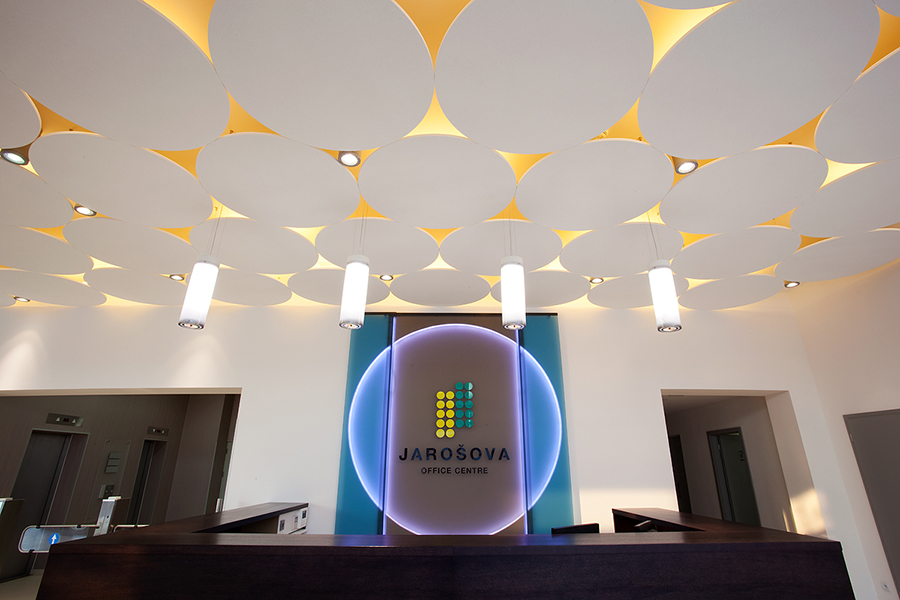 Introduction
GTC Slovakia, a subsidiary of Globe Trade Center SA is one of the biggest developers in Central and Eastern Europe, currently active in ten countries of the region. GTC has developed and owns more than 200.000 square meters of commercial real estate areas. Refurbished administrative building Jarošova Office Center, located in the broader center of Bratislava, the country's capital, was the addition to its property list in 2010. Renovated to a modern office workspace, building also included a large entrance hall which had to be inviting and suggest the quality and comfort of the whole building. In addition, there had to be good sound absorption, enough open space for lighting and design that would incorporate the round shape of the building logo. Needless to say, Armstrong's Optima Canopy satisfied all these requirements. OwnerGTC Jarošova OC s.r.o. Jarosova Center now features 76 creatively placed circle shaped Optima Canopy panels as a part of eye-catching reception area and provide superb acoustical treatment.
Testimonial
"Jarosova Office Centre's interior lobby
consists of a system of suspended
circle shaped elements located under a
suspended ceiling. We created a double
effect by using lighting in the space
above the circle canopies. The circular
finish of the ceiling creates a comfortable,
trendy atmosphere. We chose Armstrong
canopies as they were really easy to install
and the service we received from the
Armstrong team was excellent".
Adrian Mórocz, Michal Tačovský, architects.